Men of the Harvest and Silent Auction & Bake Sale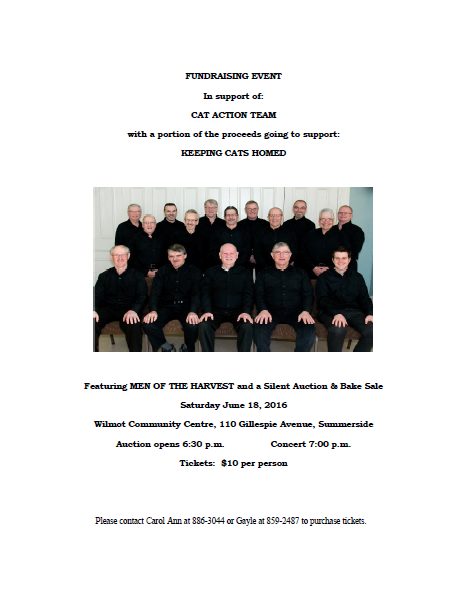 The Cat Action Team would like to thank the following businesses and individuals for donating items for the auction and bake sale:
Kensington Co-op
Men of the Harvest
O'Neil Home Gallery
PetValu in Summerside
Summerside Chrysler Dodge
Tourism PEI
Twin Shores Campground
West Prince Arts Council
Gayle Adams
Donna Bernard
Norma Brown
Nancy Burt
Vernon & Bertha Campbell
Susan Cole
Linda Curtis
Carol Ann & Dale Desjardins
Judy Dorion
Kathy Ethridge
Mary Gallant
Johnanne Gaudet
Karen Higham
Beverly Hillier
Mitchell Jollimore
Allie Keough
Avery Keough
Katie Keough
Renee Keough
Tyler Keough
Betty MacKenzie
Thom & Heather MacMillan
Beryl McLaine
Nila Murray
Jennifer Perry
Debbie Reid
Margaret Simmons
Shelley Tamtom
Jane Thomas
Susan Turner
Kathleen Williams
Thank you, very much, to Carol Ann Desjardins for holding this fundraiser for the Cat Action Team and Keeping Cats Homed; and to the volunteers who assisted with this event.
Our thanks, also, to the Men of the Harvest for their wonderful performance, to the donors who contributed to the bake sale and silent auction, and to the public for attending and purchasing.
Thanks to all involved, PEI community cats will be provided with needed spaying or neutering and other medical care.
For more information about the Men of the Harvest, visit https://www.facebook.com/menoftheharvest/