What is a feral cat?
What is a trap-neuter-return (TNR) program?
Why TNR?
Who is the Cat Action Team?
How does the CAT program work?
What is a feral cat?
Feral cats are the offspring of stray or abandoned pet cats, raised without close human contact. They typically live in colonies where food and shelter are available.
What is a trap-neuter-return (TNR) program?
With trap-neuter-return (TNR) programs, cats are humanely trapped and neutered, so that they won't contribute to the growth of the cat population, and they are provided with other necessary veterinary care. Upon recovery, the cats are returned to their colony. Colony caregivers then provide them with food and water daily and monitor their numbers and health.
Why TNR?
Studies have shown that controlling feral/stray cat populations through 'trap and kill' programs is very ineffective and costly. In addition, these programs are widely felt to be inhumane. When feral/stray cats are removed from their colonies and killed, those left behind become more fertile and reproduce to fill the territory vacated by those removed. Removal programs must, therefore, be constantly repeated. To help better deal with feral/stray cat overpopulation, many communities in North America have adopted TNR programs.
TNR is considered to be the most humane and economical solution to the problem of feral and stray cat overpopulation by experts such as the American Veterinary Medical Association, American Humane Association, Humane Society of the United States, and the Cat Fanciers' Association. TNR helps to stabilize and maintain healthy feral/stray cat colonies with the least possible cost to local governments and residents while providing a better life for the animals themselves.
Benefits of a TNR program include:
• Stabilization of feral/stray cat populations
• Reduction of problematic behaviour such as fighting, spraying, howling, predation of native wildlife
• Reduction in the spread of disease (rabies, distemper, feline immunodeficiency virus, feline leukemia)
• Reduction of stress amongst feral/stray cat populations resulting from fighting and pregnancy
• Allowing feral/stray cats to live out their natural lifespan in good health
• Fostering of compassion in neighbourhoods
• Reduction of costs to taxpayers and humane societies. TNR programs are less costly than repeated attempts at killing or housing of feral or stray cats in a humane society.
Who is the Cat Action Team?
The Cat Action Team Inc., (CAT) of Prince Edward Island (PEI), is an all-volunteer registered charitable organization working to care for and control the feral and stray cat population throughout the province. CAT was founded in November 2000 in Charlottetown by a group of citizens who shared a concern for the well-being of stray and feral cats.

Our goals are:
• To sustain a trap-neuter-return (TNR) program
• To provide long-term aftercare to neutered feral and stray cats by providing them with food, shelter, and medical care
• To reduce problematic behaviour and to reduce the threat of disease from feral and stray cats
• To reduce the number of unadoptable stray cats presented to the PEI Humane Society
• To educate the public about feral and stray cats and the problem of cat overpopulation
• To assist communities in the management of stray and feral cat populations.
How does the CAT program work?
TNR
Feral or stray cats are caught using a humane box trap. Once trapped, cats are brought to a veterinary clinic and are surgically spayed or neutered. They are also tested for disease, vaccinated, treated for parasites, and tattooed for later recognition. In an effort to protect the health of the stray and feral cat population, cats who test positive for feline immunodeficiency (FIV) or feline leukemia (FeLV) are humanely euthanized. Veterinary care is provided by private veterinary clinics and by volunteer veterinarians and students at the Atlantic Veterinary College (AVC).
Costs for veterinary care at the AVC are currently funded by grants from the Sir James Dunn Animal Welfare Centre. CAT also receives a grant from the Pegasus Family Foundation and financial support from Pegasus for a "Five for Fridays" Feral Cat Neuter Clinic at the AVC. CAT pays a discounted rate of approximately $100 per cat at private clinics. There is currently a waiting list of over 400 cats who are waiting to go through CAT's TNR program.
Colony Care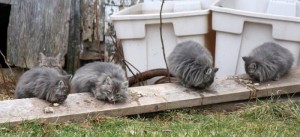 The Cat Action Team also operates a Colony Care Program, which goes hand-in-hand with our TNR program. CAT is contacted by members of the public who are concerned about stray and feral cats in their area. An initial assessment of the area is done to ensure that it is a safe location for the cats. However, relocation of cats is kept to a minimum as there is usually no alternative area to place the cats.
After the community cats have gone through the TNR Program, CAT remains in contact with colony caregivers. If a caregiver has difficulty providing food and/or shelter for their colony cats CAT may be able to assist, if food and shelter supplies on hand permit.
Other Programs
The Cat Action Team also provides limited emergency veterinary care for stray and feral cats who are injured or ill, and an informal adoption network for kittens and tame adult stray cats. Members regularly advertise found/lost cats in an attempt to reunite them with their families.