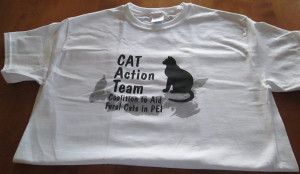 Cat Action Team t-shirts (white, as shown) are available for purchase.  The shirts are made by Gildan, are 100% cotton, with current sizes* ranging from small to XXL.
The t-shirts are $15 each.
For more information or to purchase, please contact Debbie Reid at reid.debbie@rocketmail.com.
*If you would like to order a size not listed, please let Debbie know.
---
Open Party for Feed the Ferals
Scentsy consultant Paula Walker-Chiasson has an ongoing "Open Party" in support of the Cat Action Team's "Feed the Ferals."  Check out her site here:  https://magnificent.scentsy.ca/?partyId=266251153
Thank you for your support, Paula Walker-Chiasson.
---