Cat lucky to escape from snare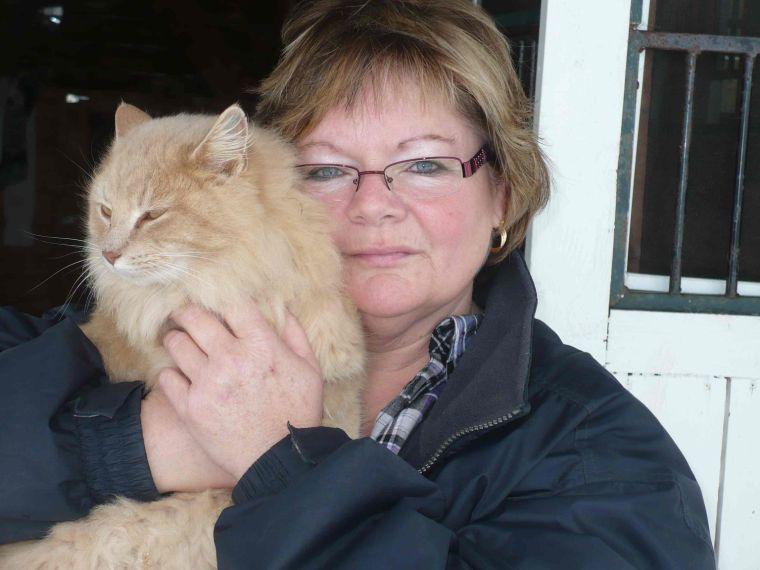 Article from the West Prince Graphic http://www.peicanada.com/west_prince_graphic/news/cat-lucky-to-escape-from-snare/article_890f74bf-a0d3-54a1-a3b1-1473cc38fe15.html
It appears a cat owned by Mary Gallant used up nearly all of its nine lives escaping from a snare's death grip.
On Jan 6 the Bloomfield woman's two-year-old cat, Sandy, was discovered in her barn with metal twisted around her neck and wire trailing behind.
"I was talking to a friend of mine and he noticed it when she walked in. You could obviously tell she was in distress and I said 'Whoa, we've got to get this off of her quick," said Ms Gallant, a member of the volunteer Cat Action organization.
She said her cat's neck had been squeezed by the suffocating wire to roughly the size of a two dollar coin.
"She had been chewing and chewing and got herself free, that's why that cat is alive today," said Ms Gallant, who believes rabbits were likely the intended prey.
"I've lived here for 20-some years and I never knew there were snares in and around my area, I really didn't."
Ms Gallant's property is bounded on one side by Bloomfield Provincial Park, where it is illegal to set snares, a business and a private landowner, with plenty of wooded land, but whom Ms Gallant doesn't believe would allow snares on his property.
Ms Gallant says she doesn't know where the snare was placed, but it must have been close by because her cat doesn't miss its regular daily feeding schedule.
She suspects it was illegally set.
She contacted PEI wildlife officials and a conservation officer was expected to visit her this week. Ms Gallant hopes she will find out where the snare was placed and if there are any more in the neighbourhood that could claim other pets.
Fortunately, Sandy has since made a full recovery and is back to her "regular job," keeping the barn mouse-free, said the lucky feline's relieved owner.
Cat Action members such as Ms Gallant scour the Island's countryside to help feral cats who have been abandoned by their owners. Since 2000 members have arranged for more than 7,000 feral cats to be spayed and neutered. Many cats have been treated for diseases and injuries and even placed into adoptive homes.
Sandy was an abandoned pet who has been fed and provided with a warm place to stay by Ms Gallant.
The owner of M & M Lucky Hooves says she is amazed at the stream of comments posted to her Facebook site after she reported the incident.
"There were a lot of comments. A lot of people were terribly upset," she said.
"A lot of people had stories about their dogs, their cats, being caught in traps and snares," said Ms Gallant.
"I was just talking to a friend, just over on Duvar Road and (she said) a cat she had come home one day with a snare around her neck."
Ms Gallant said cats are allowed to roam around her property, something she felt comfortable letting them do because they know what times they are fed.
Now that sense of security is gone.
"I find it very disturbing," she said.
Ms Gallant said a cat of hers had gone missing two weeks prior to the unsettling incident with Sandy.
"I kind of chocked it up to coyotes or foxes" but now she isn't so sure the cat didn't fall prey to snares.
Brad Potter, a wildlife biologist with the provincial government, says since 2007 Islanders have been allowed to purchase a license to snare small animals. The average of number of licenses purchased in any given year is about 50.
The usual quarry is snowshoe hares.
Ms Gallant went on to say anyone who sets snares legally "should have the common courtesy to call people who live in the area, (to see) if they have animals. Anyone who knows me knows I have animals belonging to the Cat Action (organization)," said Ms Gallant.
And they should check their snares at least once a day, to ensure animals, including wayward pets, don't suffer needlessly, she said.