What's New:
Cat Action Team T-Shirts!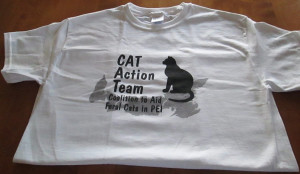 The Cat Action Team has t-shirts (white, as shown) available for purchase.  The shirts are made by Gildan, are 100% cotton, with current sizes* ranging from small to XXL.
The t-shirts are $15 each.
For more information or to purchase, please contact Debbie Reid at reid.debbie@rocketmail.com.
*If you would like to order a size not listed, please let Debbie know.
---
WHO:
Cat Action Team
Donna Hickox Feed the Ferals Program
WHAT:
Cat Food Drive for stray, feral, and barn cats.
WHERE:
WalMart, Charlottetown Store
WHEN:
Saturday, August 15, 2015, from 11:00 a.m. to 4:30 p.m.
Every can or bag helps!
Thank you for your support.
---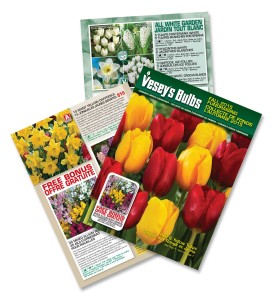 The Cat Action Team is having a Vesey's Bulbs Fall Fundraiser.
View the brochure here:  http://cats-pei.ca/wp-content/uploads/2015/07/2015-Veseys-Fall-Fundraiser.pdf
If you would like to place an order, please send an email to paulamconnolly@eastlink.ca or call her at 902-368-2216.
Order deadline is Friday, October 2, 2015.
---
CAT MEOW THANKSGIVING 50-50 DRAW
First Prize:  Half of Draw's Proceeds
Second Prize:  $100
Tickets are $2 each or three for $5
Draw Date:  October 9, 2015
For ticket information, contact Paula Connolly at 902-368-2216 or paulamconnolly@eastlink.ca/.
---
Latest issue of CAT Tales is now available!
---
Cat Food Needed!
The Cat Action Team provides cat food to colonies of cats that have no one caring for them, as well as to some of the caretakers who need assistance in feeding their colony cats.
If you would like to help the cats by providing some food, please contact us.
---
The Cat Action Team has a few TNVR (trap-neuter-vaccinate-return) clinics scheduled this month and several cats and kittens will be treated for parasites, vaccinated, spayed or neutered, tattooed for identification, and then returned to their caretakers.
If you would like to help "fix a feral," too, contact us http://cats-pei.ca/cats-fix-feral-program/ .
---
The Cat Action Team of Prince Edward Island:
Who are We?
We are a registered, non-profit, entirely volunteer charity established to work with the public in caring for stray, feral and barn cats across Prince Edward Island.  To date, the Cat Action Team has:
trapped, neutered, tested, vaccinated, treated and returned over 9,300 feral, stray and barn cats
placed nearly 100 wooden shelters in feral cat colonies
provided cat food to community cats who were in need
responded to innumerable concerns related to feral, stray and barn cats from communities across PEI.
If you know of any cats who need our help, please
contact us
.
Spay and neuter assistance for house cats (as well as dogs and rabbits) is available through our companion organization, SpayAid PEI.
CAT proudly participates in the Companion Animal Welfare Initiative of the PEI Department of Agriculture and Forestry.
---
                            Web Design and Hosting provided by Mumford Connect Web Design