What's New:
Epicure Selections Fundraiser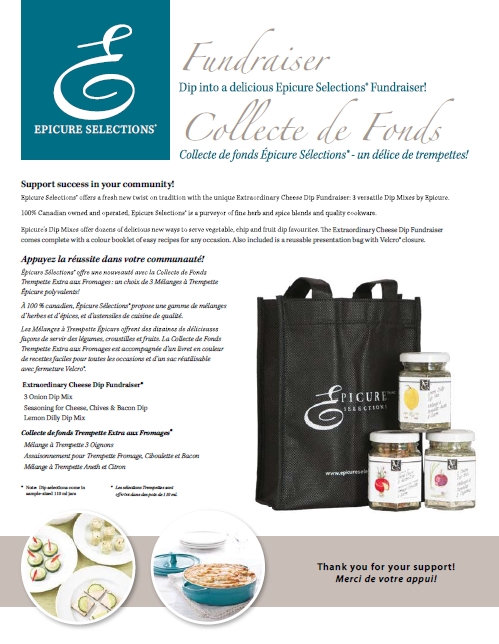 A member of the public, Connie Gaudette, is selling the Epicure Selections Extraordinary Cheese Dip Fundraiser, with a portion of the proceeds being donated to the Cat Action Team.
The Extraordinary Cheese Dip Fundraiser consists of 3 Onion Dip Mix, Seasoning for Cheese, Chives & Bacon Dip and the Lemon Dilly Dip Mix (sample-sized 110 ml jars).  Also included is a colour booklet of easy recipes, and a reusable presentation bag.  Each kit is $20.
To order, please contact Connie Gaudette at conniegaudette@gmail.com or call 902-882-3508.
Last day to place your order is December 14, 2013.
---
Christmas Catnip Mice now available!
Visit our Catnip Mice Page to find the location nearest you.
---
Colour Blind Clothing's 3rd Annual Art For Animals Fundraiser
"Presenting the 3rd Annual Art For Animals Fundraiser hosted by ColourBlind Clothing, 58 Queen Street, Charlottetown
Heather Millar and Donald Andrus
Proceeds in aid of Cat Action Team and PEI Humane Society
In our year-round effort to raise awareness of the incredibly hard work PEI's Humane Society and the Cat Action Team put in on a daily basis, we are pleased to present our third annual Art For Animals raffle fundraiser hosted by ColourBlind and Heather Millar and Donald Andrus. Heather will be donating two art pieces, Donald is donating one art piece and ColourBlind will donate a $150 gift certificate as prizes.
Tickets are $5 each or five for $20 and all proceeds will go towards the PEI Humane Society and Cat Action Team. Tickets may be purchased at ColourBlind, located at 58 Queen Street. Draw to take place at ColourBlind on Saturday, December 7th. You can view the art on the facebook page below.
https://www.facebook.com/pages/Colour-Blind/104630508122 "
Thank you, Colour Blind Clothing!
---
CAT FOOD APPEAL! 
The Donna Hickox Feed the Ferals Program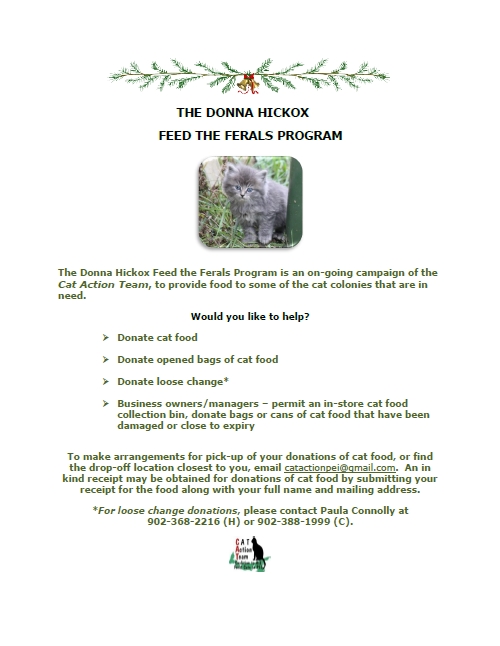 ---

The Cat Action Team's annual Christmas Cheer Basket raffle is now underway!  
Find out more by visiting our EVENTS Page - http://cats-pei.ca/events/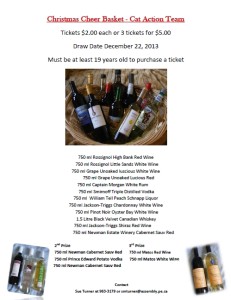 ---
The Cat Action Team of Prince Edward Island:
Who are We?
We are a registered, non-profit, entirely volunteer charity established to work with the public in caring for stray, feral and barn cats across Prince Edward Island. This assistance can include:
spaying and neutering

medical care

provision of adequate food and shelter
To date, the Cat Action Team has:
trapped, neutered, tested, vaccinated, treated and released nearly 9,000 feral, stray and barn cats

placed nearly 100 wooden shelters in feral cat colonies

regularly provided food to many colony caregivers

responded to innumerable concerns related to feral, stray and barn cats from communities across PEI.
If you know of any cats who need our help, please contact us.
Spay and neuter assistance for pet cats is available through our companion organization, SpayAid PEI. 
CAT proudly participates in the Companion Animal Welfare Initiative of the PEI Department of Agriculture and Forestry.
---
                            Web Design and Hosting provided by Mumford Connect Web Design