What's New:
Reiner MacPhail of Reining Jewels is donating 100% of his March sales to the Cat Action Team.  Thank you, Reiner MacPhail!
---
The Cat Action Team's Annual General Meeting (AGM) is to be held Sunday, April 6, 2014, 2 p.m., at the St. Eleanors Community Centre, 1 West Drive, Summerside.
Everyone is welcome to attend.
---
Spring line of CAT's catnip mice now available!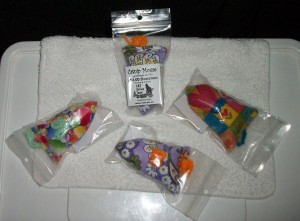 List of locations where the catnip mice can be obtained:  http://cats-pei.ca/fund-raising/
---
CAT FOOD APPEAL!

 
The Donna Hickox Feed the Ferals Program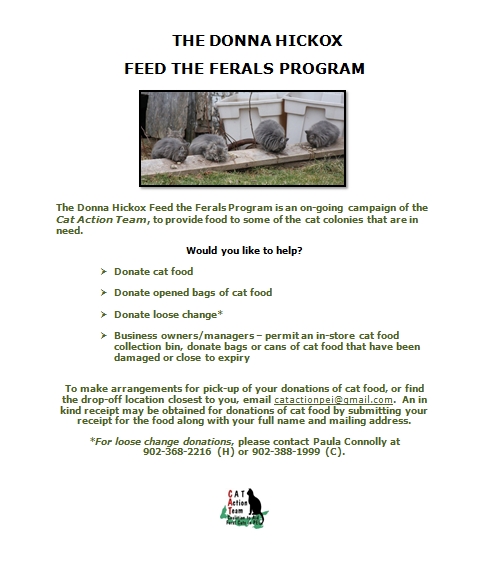 ---
The Cat Action Team of Prince Edward Island:
Who are We?
We are a registered, non-profit, entirely volunteer charity established to work with the public in caring for stray, feral and barn cats across Prince Edward Island. This assistance* can include:
spaying and neutering

medical care

provision of adequate food and shelter
To date, the Cat Action Team has:
trapped, neutered, tested, vaccinated, treated and returned nearly 9,000 feral, stray and barn cats

placed nearly 100 wooden shelters in feral cat colonies

regularly provided food to many colony caregivers

responded to innumerable concerns related to feral, stray and barn cats from communities across PEI.
If you know of any cats who need our help, please contact us.
Spay and neuter assistance for house cats (as well as dogs and rabbits) is available through our companion organization, SpayAid PEI. 
CAT proudly participates in the Companion Animal Welfare Initiative of the PEI Department of Agriculture and Forestry.
*Assistance only available for unowned cats and kittens
---
                            Web Design and Hosting provided by Mumford Connect Web Design