What's New:
SUMMER TIME MEOW 50-50 DRAW WINNERS!

First Prize:  $550.00 won by Cathy Grant (Meadowbank), who donated her winnings to CAT for Emergency Medical Expenses
Second Prize:  Cat Krunchies (year's supply) from Sunnybrook Farms Pet Supply, won by Norma MacLeod (St. Peter's area)
Third Prize:  Basket of goodies, won by Chris Snively (Summerside)
Congratulations to the winners!  Special thanks to Cathy who donated her cash prize to our Emergency Expenses Fund, and to Chris who donated many items from his prize basket that will benefit CAT cats; and many thanks to all who supported CAT by buying or selling tickets for the past three and a half months.
Thank you to Josh Blinder of Charlottetown's Global Pet Foods, who took time from his busy day to draw the three winning tickets of the CAT Summer Draw.
Paula Connolly
50-50 Draw Organizer
---
The latest issue of CAT's newsletter, CAT Tales, is now available:   http://cats-pei.ca/cat-tales/
---
"Beginning April 1st, all commissions [ Scentsy ] for the remainder of the year will be donated to Feed the Ferals-Cat Action Team, in Charlottetown."  Paula Walker-Chiasson
Thank you for your support, Paula Walker-Chiasson.
---
CAT FOOD APPEAL!

 
The Donna Hickox Feed the Ferals Program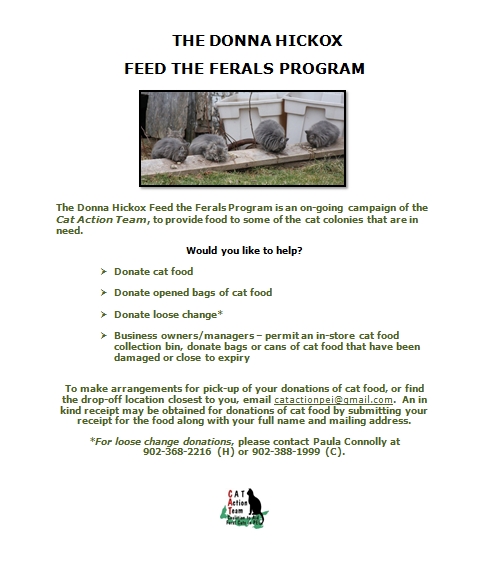 ---
The Cat Action Team of Prince Edward Island:
Who are We?
We are a registered, non-profit, entirely volunteer charity established to work with the public in caring for stray, feral and barn cats across Prince Edward Island. This assistance* can include:
spaying and neutering
medical care
provision of adequate food and shelter
To date, the Cat Action Team has:
trapped, neutered, tested, vaccinated, treated and returned over 9,300 feral, stray and barn cats
placed nearly 100 wooden shelters in feral cat colonies
regularly provided cat food to those colony caregivers who were in need
responded to innumerable concerns related to feral, stray and barn cats from communities across PEI.
If you know of any cats who need our help, please
contact us
.
Spay and neuter assistance for house cats (as well as dogs and rabbits) is available through our companion organization, SpayAid PEI.
CAT proudly participates in the Companion Animal Welfare Initiative of the PEI Department of Agriculture and Forestry.
*Assistance only available for unowned cats and kittens
---
                            Web Design and Hosting provided by Mumford Connect Web Design