What's New: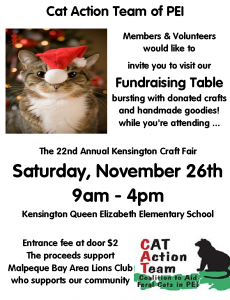 Please contact Debbie Reid (reid.debbie@rocketmail.com) if you would be interested in volunteering an hour or two of your time, or would be interested in donating crafts or baked goods for this event.
---

The Cat Action Team's

Christmas Cheer

raffle is back!
Draw Date:  Saturday, December 17, 2016
Tickets:  $2.00 each or 3 for $5.00

**Must be 19 years of age or older to purchase tickets**

This year, several non-liquor items will be included!
Further details can be found here:  http://cats-pei.ca/events/ 
---
Westisle Composite High School Grade 12 students Sam Cameron, Bailey Bulger, Kara Buote and Kaylee Gavin recently took action… To find out what they did, visit http://www.peicanada.com/west_prince_graphic/article_9e59cb46-d4e4-11e5-b829-9752e2ce28a0.html
Thank you for caring!
To find out how you, too, can help:   http://cats-pei.ca/cats-fix-feral-program/
---
The Cat Action Team has  TNVR (trap-neuter-vaccinate-return) clinics scheduled this month and several cats and kittens will be treated for parasites, vaccinated, spayed or neutered, tattooed for identification, and then returned to their caretakers.
If you would like to help "fix a feral," too, contact us http://cats-pei.ca/cats-fix-feral-program/ .
---
The Cat Action Team of Prince Edward Island:
Who are We?
We are an all-volunteer registered charity established to work with the public in caring for stray, feral and barn cats throughout Prince Edward Island.  To date, the Cat Action Team has:
trapped, neutered, tested, vaccinated, treated and returned 10,934 feral, stray and barn cats (2015 statistics)
placed over 100 wooden shelters in feral cat colonies
provided cat food to community cats when in need
responded to innumerable concerns related to feral, stray and barn cats from communities across PEI.
If you know of any cats who need our help, please
contact us
.
Spay and neuter assistance for house cats (as well as dogs and rabbits) is available through our companion organization, SpayAid PEI.
CAT proudly participates in the Companion Animal Welfare Initiative of the PEI Department of Agriculture and Forestry.
---
                            Web Design and Hosting provided by Mumford Connect Web Design