What's New:
The latest issue of the CAT TALES newsletter is now available:  http://cats-pei.ca/wp-content/uploads/2014/09/CAT-TALES-Fall-2014.pdf
---
CAT's "Fix a Feral" Program!  Details here:  http://cats-pei.ca/cats-fix-feral-program/
---
Christmas Cheer Basket Raffle
The Cat Action Team's annual Christmas Cheer Basket raffle is now underway!  
Tickets are $2.00 each or 3 tickets for $5.00.  
 Complete details on EVENTS page!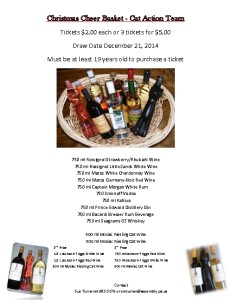 ---
"Beginning April 1st, all commissions [ Scentsy ] for the remainder of the year will be donated to Feed the Ferals-Cat Action Team, in Charlottetown."  Paula Walker-Chiasson
Thank you for your support, Paula Walker-Chiasson.
---
The Cat Action Team of Prince Edward Island:
Who are We?
We are a registered, non-profit, entirely volunteer charity established to work with the public in caring for stray, feral and barn cats across Prince Edward Island.  To date, the Cat Action Team has:
trapped, neutered, tested, vaccinated, treated and returned over 9,300 feral, stray and barn cats
placed nearly 100 wooden shelters in feral cat colonies
provided cat food to community cats who were in need
responded to innumerable concerns related to feral, stray and barn cats from communities across PEI.
If you know of any cats who need our help, please
contact us
.
Spay and neuter assistance for house cats (as well as dogs and rabbits) is available through our companion organization, SpayAid PEI.
CAT proudly participates in the Companion Animal Welfare Initiative of the PEI Department of Agriculture and Forestry.
---
                            Web Design and Hosting provided by Mumford Connect Web Design