WHO:
Cat Action Team
Donna Hickox Feed the Ferals Program
WHAT:
Cat Food Drive for stray, feral, and barn cats.
WHERE:
WalMart, Charlottetown Store
WHEN:
Saturday, August 15, 2015, from 11:00 a.m. to 4:30 p.m.
Every can or bag helps!
Thank you for your support.
---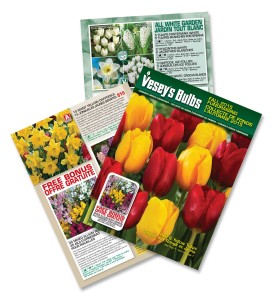 The Cat Action Team is having a Vesey's Bulbs Fall Fundraiser.
View the brochure here:  http://cats-pei.ca/wp-content/uploads/2015/07/2015-Veseys-Fall-Fundraiser.pdf
If you would like to place an order, please send an email to paulamconnolly@eastlink.ca or call her at 902-368-2216.
Order deadline is Friday, October 2, 2015.
---
CAT MEOW THANKSGIVING 50-50 DRAW
First Prize:  Half of Draw's Proceeds
Second Prize:  $100
Tickets are $2 each or three for $5
Draw Date:  October 9, 2015
For ticket information, contact Paula Connolly at 902-368-2216 or paulamconnolly@eastlink.ca/.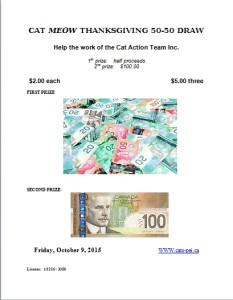 ---
Open Party for Feed the Ferals
Scentsy consultant Paula Walker-Chiasson has an ongoing "Open Party" in support of the Cat Action Team's "Feed the Ferals."  Check out her site here:  https://magnificent.scentsy.ca/?partyId=266251153
Thank you for your support, Paula Walker-Chiasson.
---