The Cat Action Team's

Christmas Cheer

!
Draw Date:  Saturday, December 17, 2016
Tickets:  $2.00 each or 3 for $5.00

**Must be 19 years of age or older to purchase tickets**

This year, several non-liquor items will be included!
Veterinary clinics and businesses where tickets are available:
Veterinary clinics – Souris Veterinary Clinic, Montague Veterinary Clinic, Southport Animal Hospital, Abegweit Animal Hospital, Cornwall Veterinary Clinic, Kensington Veterinary Clinic, Summerside Animal Hospital, West Prince Veterinary Services
Mary's Bake Shoppe, Kensington
Sunnybrook Farms Pet Supply, Summerside
Global Pet Foods, Summerside
Grafton Cafe, Polyclinic, Charlottetown
Bonshaw Post Office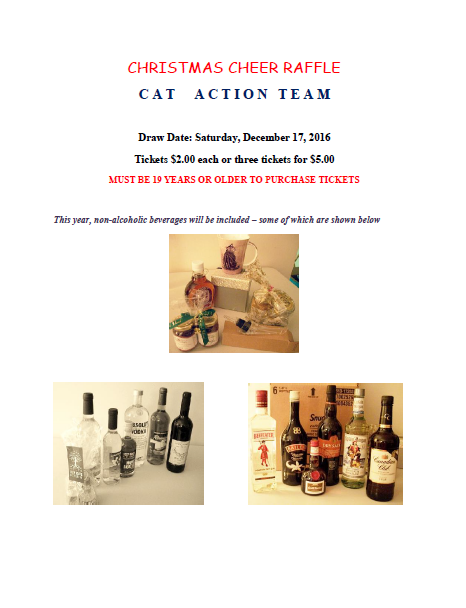 Contents of baskets (two):
FIRST PRIZE
Maple Liqueur 50 ml
Island Tide Liqueur 50 ml
Blueberry Spirit 50 ml
Wild Berry flavoured – Dessert Wine 750 ml
Rossignol Cranberry Delight Wine 750 ml
Dry Sack Sherry 750 ml
Grand Marnier Liqueur 200 ml
Baileys Vanilla Cinnamon 750 ml
Beefeater London Dry Gin 750 ml
Vodka: Absolut: 1.14 L
SUGAR SHACK Pure Maple Syrup 250 ml
Organic Peach Juice 750 ml
China mug (cat picture)
Four wine glasses
Candy dish
Hot Chocolate, Tim Horton 500 g can
Apple Juice 945 ml
SECOND PRIZE
Rossignol Dry White Wine 750 ml
Mead Honey Wine 375 ml
Maple Liqueur 350 ml
Canadian Club Whiskey 750 ml
Captain Morgan White Rum 750 ml
Kraken Black Spiced Rum 350 ml
Wine aerator
Honeydew gift pack
2 x 125 ml Preserves
Two wine glasses
Apple Juice 945 ml
Cat-in-boot Ornament
**More items to be added!**
For tickets information, please contact Paula Connolly at paulamconnolly@eastlink.ca or call 902-368-2216.
---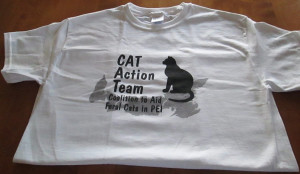 Cat Action Team t-shirts (white, as shown) are available for purchase.  The shirts are made by Gildan, are 100% cotton, with current sizes* ranging from small to XXL.
The t-shirts are $15 each.
For more information or to purchase, please contact Debbie Reid at reid.debbie@rocketmail.com.
*If you would like to order a size not listed, please let Debbie know.
---
Open Party for Feed the Ferals
Scentsy consultant Paula Walker-Chiasson has an ongoing "Open Party" in support of the Cat Action Team's "Feed the Ferals."  Check out her site here:  https://magnificent.scentsy.ca/?partyId=266251153
Thank you for your support, Paula Walker-Chiasson.
---