The Cat Action Team is grateful for the generous support of many individuals and organizations including: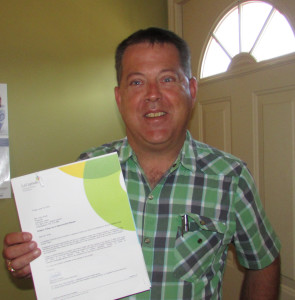 Stephen Arsenault of Summerside, representative of La Capitale Financial Security, recently presented the Cat Action Team with a very generous donation from La Capitale Financial Group Foundation of Quebec.
Our thanks to Stephen Arsenault and La Capitale Financial Group Foundation for your support!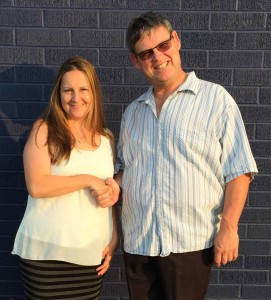 Bob Stanley, President of Cat Action Team, recently accepted a generous donation from Nadine Tibbits, which she collected at her wedding reception.
Guests at her reception were requested to make a small donation each time they wanted the Bride (Nadine) and Groom (Chris) to kiss.
Cat Action Team is very grateful for the generous gift and very creative fundraising idea.
Participating veterinary clinics:
Abegweit Animal Hospital, Charlottetown, PEI
Atlantic Veterinary College, University of Prince Edward Island
Kensington Veterinary Clinic, Kensington, PEI
Montague Veterinary Clinic, Montague, PEI
PEI Veterinary Medical Association, Montague, PEI
Summerside Animal Hospital, Summerside, PEI
West Prince Veterinary Service, O'Leary, PEI
Donors and sponsors:
Agro Co-op Country Store, Charlottetown, PEI
Avon Canada
Buns 'N Things Bakery, Charlottetown, PEI
Burger King, Charlottetown, PEI
Canadian Federation of Humane Societies
Canadian Tire, Charlottetown, PEI
Clarence Farm Services
Co-op Foods
Coca-Cola Refreshments, Charlottetown, PEI
Colour Blind, Charlottetown, PEI
Confederation Cove Mussel Co. Ltd., Borden-Carleton, PEI
Dewar, Dr. Charles, PEI
Frosty Treat Dairy Bar, Kensington, PEI
GWG Flooring Inc., Charlottetown, PEI
Global Pet Foods, Charlottetown, PEI
Graduating class of the Atlantic Veterinary College, 2009
Home Depot, Charlottetown, PEI
IAMS (see here for donation information)
Island Pet Supply
KFC, Charlottetown, PEI
Kent Building Supplies, Charlottetown, PEI
M&M Furniture, Charlottetown, PEI
McDonald's
Midland Transport, Dieppe, New Brunswick
PEI Union of Public Sector Employees, Charlottetown, PEI
Pegasus Family Foundation (see here for grant information)
Pet Valu, Summerside, PEI
PetSmart Charities® of Canada, Inc. (PCCI) (see here for grant information)
Pfizer Animal Health – see Zoetis Canada
Phillips Feed Service Ltd, Charlottetown, PEI
Save Easy, Kensington, PEI
Sharky's Seafood Restaurant, Summerside, PEI
Sir James Dunn Animal Welfare Centre, Atlantic Veterinary College, Charlottetown, PEI (see here for grant information)
Skye View Farms
Sunnybrook Farms Pet Supply, Summerside, PEI
Superstore, Charlottetown, PEI
The Iceman, Long Creek, PEI
The Bedeque Village Store, Bedeque, PEI
Vogue Optical, Charlottetown, PEI
Zoetis Canada (see here for donation information)